Here are the important shots and by important I mean the body-paint and see through ones of the sexy models in the 2013 edition of Sports Illustrated's swimsuit issue!! Too much sexiness.. enjoy!
High-res via Imagevenue:
Ariel Meredith – See her nips in the scan, but they chopped the nips in the outtakes? What gives?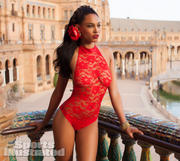 Irina Shayk – no nipples but damn is she sexy!